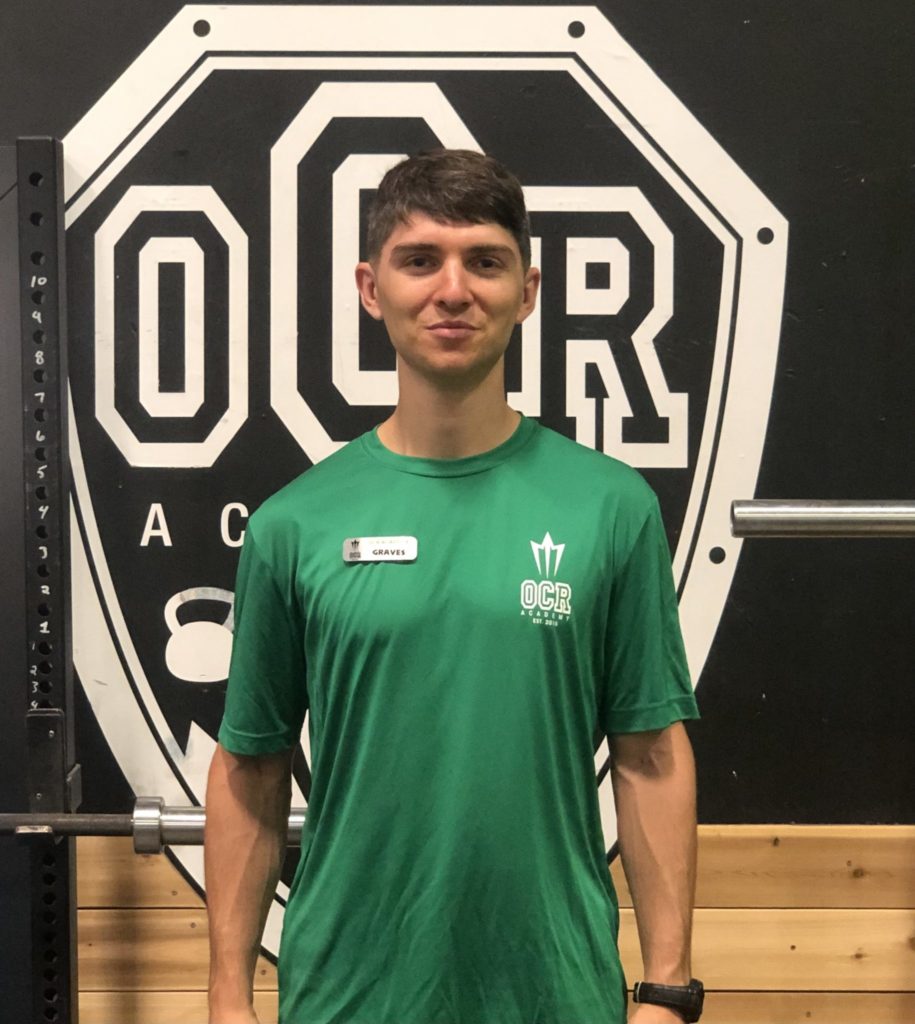 Coach Graves sees health and fitness as an essential part of everyday life.
Many people spend their days going from point a to point b without much thought about how they are moving. However, this can lead to dysfunction in a number of ways, putting people in a vicious cycle of poor movement patterns. Poor movement leads to pain, fear of movement, disuse, and deconditioning. As a coach, it is my goal to teach you effective and efficient movement, to prepare you for the physical demands of everyday life.
You and coach Graves achieve this goal by focusing primarily on skill acquisition, targeting poor movement patterns, and finding alternatives to suboptimal lifestyle choices.
Throughout the coaching process, physical assessments and skill acquisition will give you measurable benchmarks to track your progress.
As a coach, Graves offers unique and tailored sessions to each client helping them achieve their personal physical goals.
The process starts with a three step approach:
Step one, CONSULTATION where you and coach Graves will go into detail about your relevant health and fitness history, as well as your wants and goals for the program. The consultation will act as the initial benchmark for both you and coach Graves to see if you are a good fit for the program.
Step two, will be the initial PHYSICAL ASSESSMENT, where we can get a framework of where you are physically, in terms of your mobility, strength and conditioning, as well as a set of basic measurements and metrics to monitor progress.
Step three, is a one on one TRAINING SESSION with coach Graves, where you will get a feel for the training approach.
This three step approach is offered complimentary to all new clients, with no obligation of future commitment to coaching.
Now you may be asking yourself why coach Graves?
Who is coach Graves?
Coach Graves' methodology is unique and built upon years of experience, education, and experimentation with different fitness models, sports, and philosophies.  As a veteran of the Canadian Armed Forces, having served as a light infantry soldier of the 3rd Royal Canadian Regiment, coach Graves is no stranger to adversity or pushing physical and mental limits. Graves has seen first hand how poor movement patterns destroy soldiers' careers. However, you don't need to be a soldier to destroy yourself with poor movement or unhealthy lifestyle choices.
Coach Graves believes in an approach of humility and constant improvement.
With that in mind, coach Graves is always looking to refine his art with whatever tools and skills he can acquire, using scientific literature, books, films, and courses, among other things.
Coach Graves is a certified Level 1 MovNat instructor.
Feel free to reach out for a consultation at:
coachingwithgraves@gmail.com